How to Install ShareThis Follow Buttons on an HTML Website
[vc_row type="in_container" full_screen_row_position="middle" scene_position="center" text_color="dark" text_align="left" overlay_strength="0.3″][vc_column column_padding="no-extra-padding" column_padding_position="all" background_color_opacity="1″ background_hover_color_opacity="1″ width="1/1″ tablet_text_alignment="default" phone_text_alignment="default"][vc_column_text]Beautiful, quick to install, and easy to configure — our social media follow buttons are designed to help you increase your social following across channels with minimal effort. Create your own ShareThis follow buttons with several simple steps.
If you're a new user, please watch this video tutorial.
[/vc_column_text][vc_video link="https://www.youtube.com/watch?v=iZAhObssoWs&t=11s"]
[vc_column_text]
Please note:
 Since this is your first time using our ShareThis platform, we require you to verify that you have placed our javascript code into the header of your website. A notification box will appear and you can grab a copy of the code, it will look like this: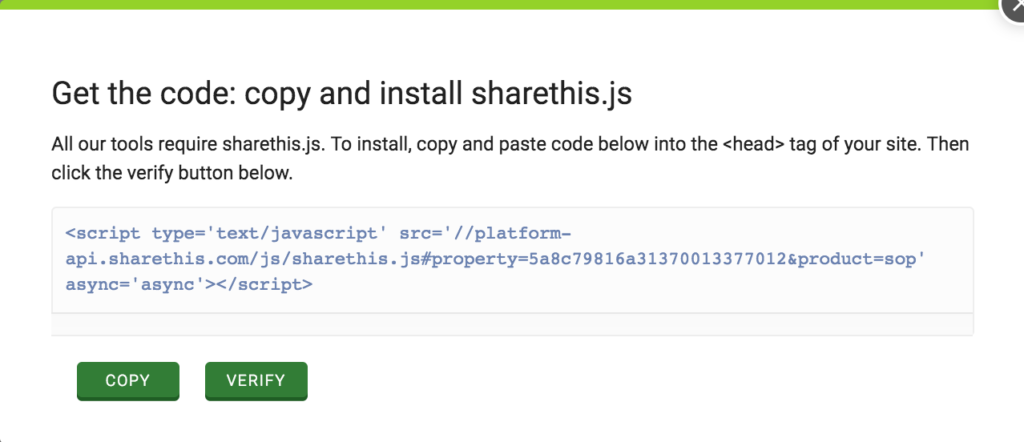 The javascript code is needed in order for the ShareThis buttons to be activated, so don't forget to add the most vital part of the code! For those who have already added our javascript code, you do not have to do this again.[/vc_column_text]
[vc_column_text]
If you're an existing user, please follow the instructions below:
Step 1: Login to your platform account.
Go to https://platform.sharethis.com/login and log into your ShareThis platform account.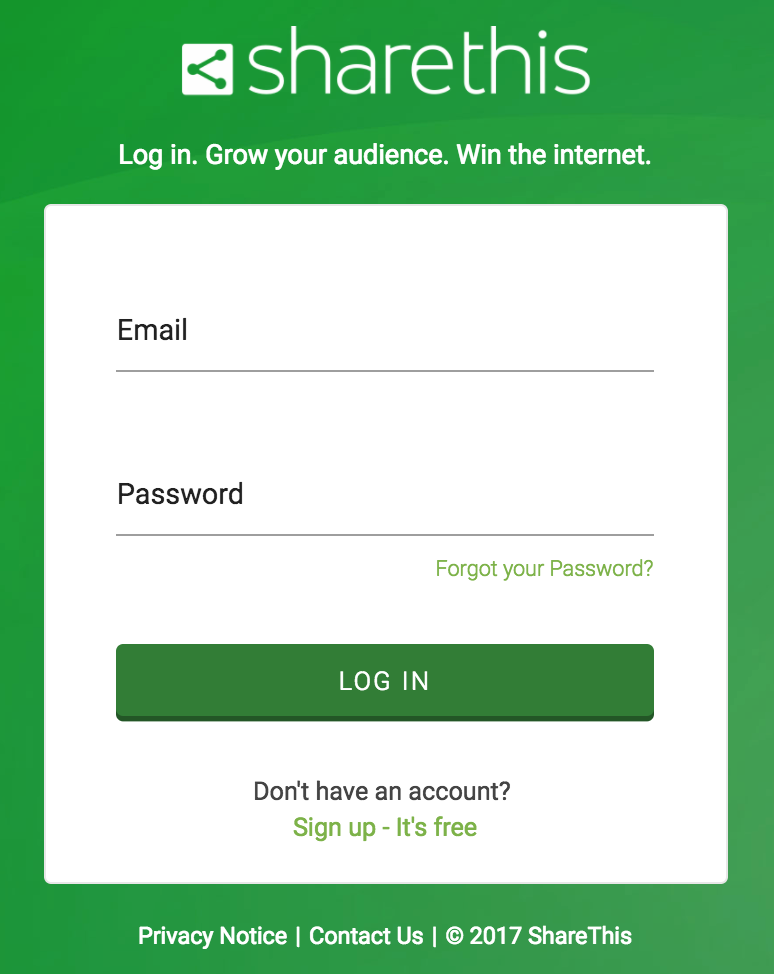 Step: 2: Selecting follow buttons
Once you have logged into your account, go to the left-hand side of the platform and select "Inline Follow Buttons"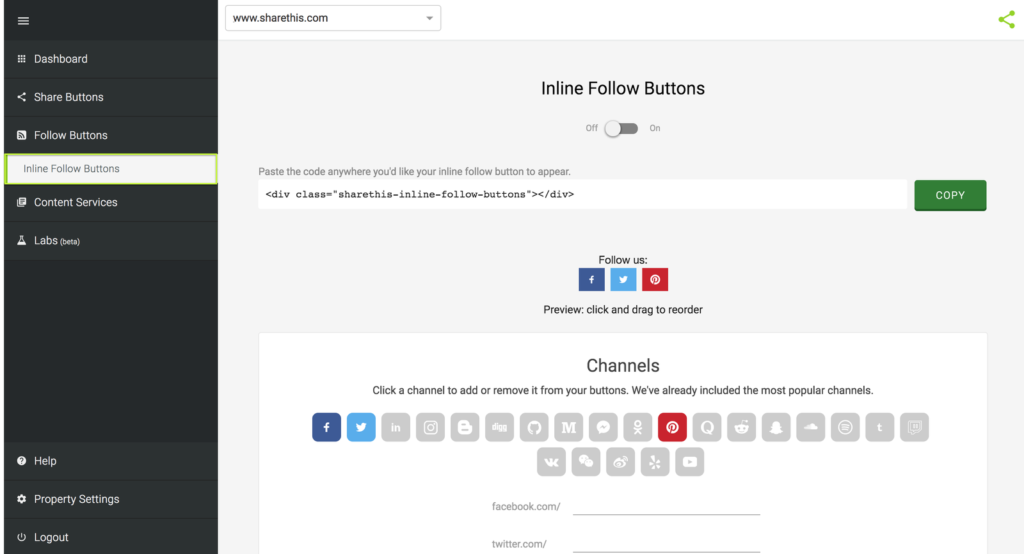 A friendly reminder: Make sure you select the correct website property that you wish to add follow buttons in the drop down bar at the top of the platform.
Step 3: Choosing social channels
Once you arrive at the "Inline Follow Buttons" section, use our awesome button setup to select a list of social channels you wish to have your audience follow you in. Upon selecting the channels, you'll notice a display of additional URL links below the channel selection area — this is where you'll enter the account information for each channel.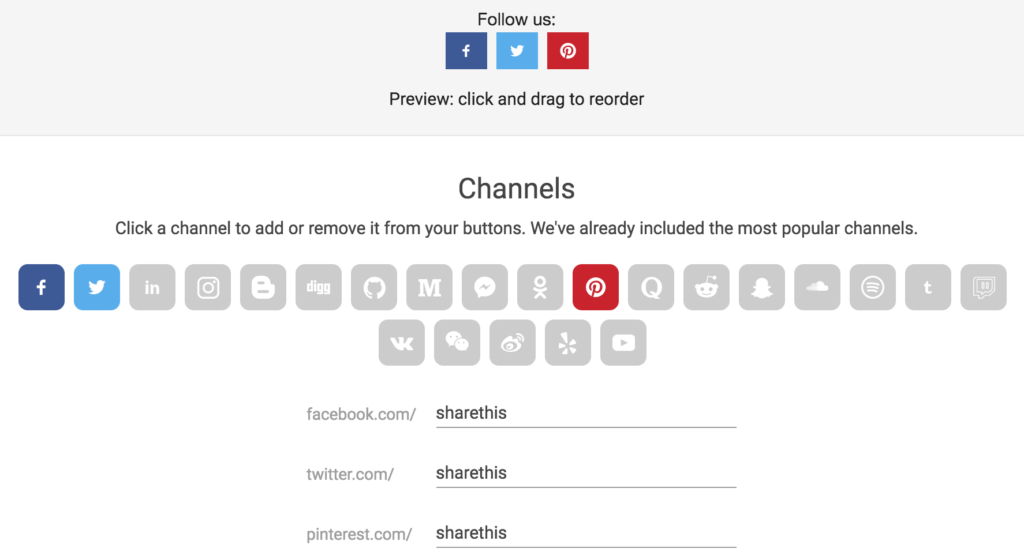 Guess what? – Within the preview setup, you're able to click and drag to reorder the position of the social channels.
Step 4: Customizing Your Design
Here comes the fun part — customizing the buttons! In this section, you'll be able to choose from a variety of options ranging from button design, button size, and call-to-action copy.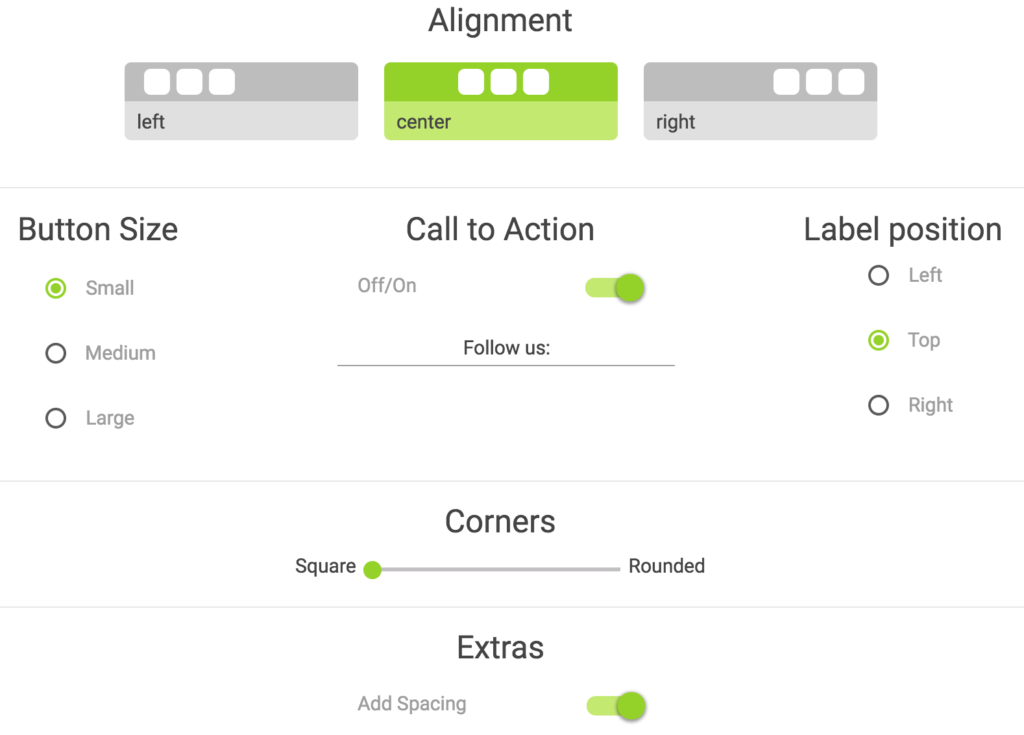 Step 5: Saving Configurations
Once you finish designing the perfect follow button for your website, go all the way to the bottom of the page and click "Update" to save your custom settings. You will see the results once you've copied the last piece of the code.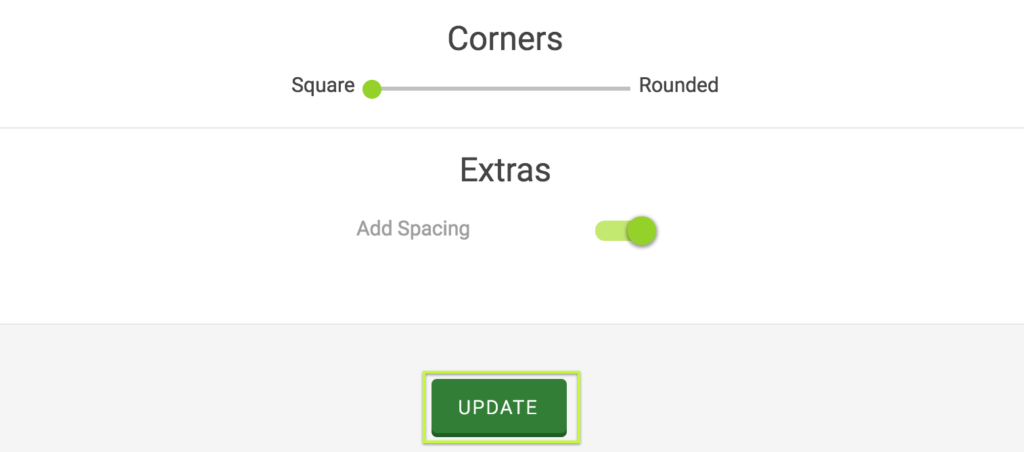 Step 6: Copy and paste the follow button code!
The last and most important step now is to go back to the top of the screen and copy the line of code given. It will look like this:

Once you've copied the code, you can apply it on your website. The most common locations for Follow Buttons are in the header, footer, or sidebar. We strongly recommend placing them away from the Share Buttons.  Learn more about the best location to place share buttons vs. follow buttons.[/vc_column_text][/vc_column][/vc_row]