WordPress Directory Installation
2. In the sidebar, expand Plugins and click on Add New.
4. Find the search result that says ShareThis and click "Install Now".
5. Within the same page, click the "Activate Plugin" link.
6. Once you have activated the ShareThis plugin, the next step is click on "Configure share buttons and create account"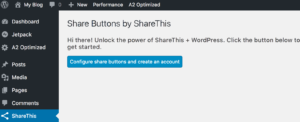 7. Upon clicking, a page from ShareThis will appear which will allow you to choose which style of buttons you prefer.

8. Once you've selected which style, the fun part begins… customizing!
Within this page you're able to select social channels, button sizes, shapes and more.

Click above to see the animated version!
9. Once you've selected the desired style of your share buttons, create an account so you're able to go back and make changes to your buttons in the future.

10. And… BAM! Once you sign in/up, you will be directed back to your WordPress dashboard where you can continue to customize share buttons to your liking.

Finished!
After completing the final step, go back to your blog post/page and look for the widget installed. Congrats! You've now made it easier for your audience to share your content 🙂