Automatic Installation – search, install and activate the plugin completely within WordPress.
Manual Installation – download and expand zip files, upload to server, and activate.
Automatic Installation
Step 1: Log-in to your WordPress blog.
Step 2: In the sidebar, expand

Plugins

and click on

Add New

.
Step 3: In the search box, type

ShareThis

, then click

Search Plugins

.
Step 4: Find the search result that says

ShareThis

and click

Install Now

.
Step 5: On the installation page, click the

Activate Plugin

link. You're done!
Manual Installation
Download and unarchive the plugin folder.
Place the uncompressed share-this folder in your wp-content/plugins directory. You should end up with up with wp-content/plugins/share-this/.
On the Plugin page in your WordPress Administration area, activate the ShareThis plugin.
Plugin Options
Once you have successfully installed and activated the ShareThis plugin. A link to a new settings page in the sidebar will be generated where you can customize the plugin.
Step 1: Choose Button Style Option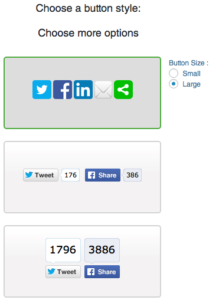 Select from small or large buttons or ones that display share counters.
Add Hover Bar or Pulldown Bar Option
For extended sharing capabilities you have the option of including a share bar that is always in view, even when users scroll up and down the page.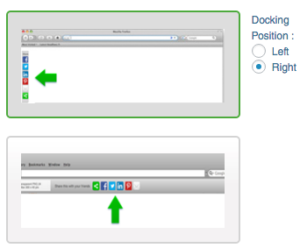 Hover Bar allows you to dock on either the Left or Right of your webpage.
Learn More.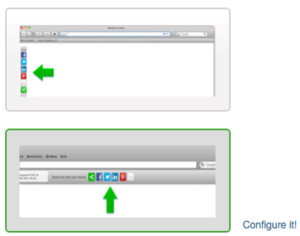 Pulldown Bar will appear when users scroll down the page. Learn More.
Step 2: Choose Social Services
Select which social services you want to add and remove the ones you don't want by dragging outside of the 'Selected Services' area. You can also change the order of how they appear. A full list of available services can be found here.

Choose Social Plugins
Select which social plugins you want to add by dragging over to the 'Selected Services'. You can also change the order of how they appear by dragging up and down.

Step 3: Sharing Method
If you've selected Twitter as a social service you wish to include in the widget, there will be a form to include your Twitter handle. Once your content is shared via Twitter,"via @YourTwitterHandle" will be appended at the end of the Tweet.


Step 4: Customize Share Functionality
Check this box to track the shares that occur when a user copies and pastes your website's URL or content. Learn More.

Customize Widget Position
Customize the way the Widget looks to your user. You can choose between putting share buttons at the top