How to Install Share Buttons on a HTML Website
Step 1: Choosing your share buttons
Go to http://platform.sharethis.com/get-share-buttons and choose between "Inline buttons" or "Sticky Buttons"
Inline Buttons: Choose this option to place share buttons at specific locations on a page, such as under headlines.
Sticky Buttons: Choose this option to place share buttons left or right side of the screen on desktop and the bottom of the screen on mobile.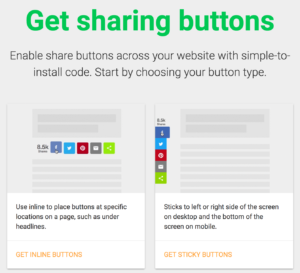 Step 2: Choosing Social Services
Use our awesome button setup creator to customize which social services you wish to add to your share bar:
*TIP* – Within the preview setup, you're able to click and drag to reorder the position of the social services.

Step 3: Customizing Your Setup
This is the fun part, choose through our various options of customizing abilities from button alignment to extras such as minimum amount of shares you wish to have before showing counts! Awesome 🙂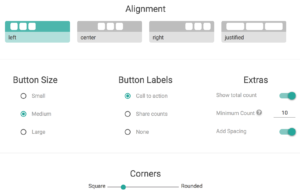 Step 4: Register and Get The Code!
Once you designed the share buttons to your liking, head to the bottom of the page and register in order to receive the code!

Step 5: Copy and Paste the Script into Header
Copy the following code:

Then paste the code into the header of your site template, right before the closing head tag.
It should look like this:
Step 7: Copy and Paste Buttons wherever you please!
Now the best part, copy this line of code to anywhere you please and show off all your favorite sharing buttons!