If you're struggling to gain traction on Instagram, running Instagram giveaways might just be your ticket to getting attention from the platform's millions of users. After all, everyone loves free stuff, right? An Instagram giveaway done well means more likes, follows, and shares – plus, these contests can be a lot of fun for you, too.
"But how do I set up an Instagram giveaway?" you ask. Or, "What can I possibly give away that will get people interested?" If you're not sure where to begin, don't worry – we'll cover the basic types of Instagram giveaways and eight successful Instagram giveaway examples that get results.
How Do Instagram Giveaways Work?
There are different approaches for running an Instagram giveaway, and there's no right or wrong way as long as you're abiding by Instagram's promotion guidelines. Your strategy for the Instagram giveaway is based on your objective and the types of actions that you ask your target audience to take. If your audience is made up of a lot of selfie-haters, hosting a "post a selfie for a chance to win" contest will likely turn into a major #FAIL.  As you take your audience's preferences and desires into consideration, you can choose from several types of Instagram giveaways. Giveaways generally involve some variation on one of the following types of contests:
Like to Win Contests – These are the simplest Instagram giveaways to run. Because you're simply asking people to follow your account and like a post, you're not taking the risk of alienating anyone by asking them to do something outlandish (like post a selfie – gasp!). Another variation on a like to win contest asks participants to like and repost your post (with the appropriate contest #hashtag, of course) to enter.
Follow to Win – Another type of Instagram giveaway that's simple to run, a follow to win contest requires participants to follow your Instagram account (and those of your co-sponsors, if you're running a giveaway in cooperation with another brand) to enter. Some Instagram giveaways use like and share to win and follow to win in combination, asking participants to follow your account and/or your co-sponsor's account, like the post on your and/or your co-sponsor's account, and share the post in order to earn an entry. Keep in mind that when using all three requirements, you're asking a lot of your followers, so make sure the giveaway prize is worth their effort!
Tag a Friend – In this giveaway, followers are asked to leave a comment and tag a friend in your post for a chance to win. This type of Instagram giveaway is often used in conjunction with the follow to win approach, asking participants to follow your account and tag one (or a few!) friends to enter. It's a great way to get your brand in front of a larger audience and grow your Instagram followers.
Post a Picture (or Selfie) – Ask followers to post a picture relevant to your brand (such as using or wearing a product) along with a contest-specific hashtag. If you're not requiring selfies, you'll get better engagement from any selfie-averse followers.
Share This Post – Post an image specific to the contest and enter anyone who shares and tags the post with your #ContestHashtag in the giveaway. (Another simple giveaway option with broad appeal.)Another variation on a like to win contest asks participants to like and repost your post (with the appropriate contest #hashtag, of course) to enter.
Caption This – While it's a bit more subjective and time-consuming to judge, a caption this Instagram giveaway can be lots of fun. To run this contest, post a photo and ask your followers to submit a caption to enter. Then, you (or a panel of unbiased judges of your choosing) chooses the funniest (or most descriptive, most on-brand, or whatever you're aiming for) as the winner.
While a lot of Instagram contests operate similarly, you can combine and mix up the requirements to boost engagement – but if you're asking your followers to jump through several hoops, make sure the prize is worth it. And don't forget to follow your usual Instagram best practices, like posting at the ideal times to reach your audience.
Instagram Giveaway Templates 
Ready to run your own Instagram giveaway, but aren't sure what to include in your Instagram giveaway announcement and the giveaway rules? First, let's talk about your giveaway announcement, and then we'll discuss the legalese required by Instagram to comply with the platform's promotion guidelines. 
The Instagram image or photo you use to announce your giveaway can take many forms. Fortunately, there are a variety of templates available for free that you can customize to meet your needs. Instagram giveaway templates range from simple, text-focused images that boldly announce "Giveaway!" to sleek, professional designs that incorporate details such as the steps to enter, the prize(s) up for grabs, and the dates the giveaway contest will run. Here are a few resources to find high-quality Instagram giveaway templates you can customize to make them your own: 
You can also create your own Instagram giveaway announcement – or an Instagram giveaway template you can use again and again each time you run a giveaway by customizing a few details – using free and low-cost image creation tools like Canva, Crello, Stencil, and many others. 
Instagram Giveaway Rules (Copy and Paste)
Instagram requires users who are running giveaways on the platform to comply with certain requirements, including using specific verbiage that releases Instagram from any participation in your giveaway or contest. Specifically, you're responsible for the official rules of your giveaway, the terms of the offer and any applicable eligibility requirements such as age or geographic restrictions, and any other applicable rules and regulations related to contest promotion or prizes offered, such as registering with the appropriate governing entities and obtaining any required regulatory approvals before running your giveaway. 
Your Instagram giveaway rules should include the following: 
The name of the company hosting or sponsoring your Instagram giveaway. 
The start and end dates and times for your Instagram giveaway, including the time zone. 
Restrictions on participation, such as age requirements or geographic location restrictions. 
Clear guidelines on how to enter. 
A clear explanation of how and when the winner(s) will be selected. 
Details on how the winner(s) will be announced and what the winner(s) need to do to claim their prize(s). This should also include information about how the prize(s) will be delivered and if the winner(s) are responsible for paying any shipping costs or for picking up their prize(s) at a specific location on a specified date and time. 
A complete release of Instagram by each entrant or participant. 
A clear statement acknowledging that the promotion is not sponsored, endorsed, or administered in any way by Instagram and is in no way associated with Instagram. 
Here's an Instagram giveaway rules statement you can copy and paste: 
Per Instagram's rules, this giveaway is not associated with Instagram, Inc. in any way and is not sponsored, endorsed, or administered by Instagram, Inc. By entering, you confirm that you are 13+ years of age, you agree with Instagram's terms of use, and you release Instagram of any responsibility.  
12 Examples of Amazing Instagram Giveaways
Not sure which type of giveaway to run? Here are a few examples of amazing and well-executed giveaways for more inspiration.
Fraser Hill Farm: Like Us on Twitter, Follow Us on Instagram Giveaway
Screenshot via Instagram by @fraserhillfarm
Fraser Hill Farm takes an innovative approach with this Instagram giveaway. The grand prize is two tickets to see the Rockettes at Radio City Music Hall for an unforgettable Christmas experience. Instead of laying out all the requirements in their Instagram post announcing the contest, they direct followers to the link in their bio, which takes them to a page with several options for engaging with the brand, including voting for the 2021 Fraser Hill Farm ornament, becoming an influencer, and more, along with entering the contest to win Rockette Christmas Spectacular tickets. There, you can click on that option to navigate to the entry page, where you'll enter your email address, like @FraserHillFarm on Twitter, and follow @fraserhillfarm on Instagram. Plus, for each time you share and a friend enters, you'll get one extra entry. This is a great example of using an Instagram giveaway to get boost your new followers on multiple social media platforms while encouraging shares and engagement. 
Becky Overbeck Fitness: Like, Tag & Follow Giveaway
Screenshot via Instagram by @becky_overbeck_fitness_
In this Instagram giveaway, @becky_overbeck_fitness_ partners with several collaborators to offer a giveaway bundle featuring a handmade bracelet, a FRÉ t-shirt and beach bag, and several other products. To enter, participants need to like the post, follow @becky_overbeck_fitness_ and three other profiles, and tag four friends. Sharing the post in your stories earns extra entries, which encourages engagement to boost exposure for all four collaborators. 
Navitas Organics: Follow, Like & Tag Friends for Multiple Entries
Screenshot via Instagram by @navitasorganics
Navitas Organics broadens the appeal of tagging friends in this Instagram giveaway by offering an entry for every friend you tag in the comments – without a limit on the number of entries you can earn. To enter, Instagram users must also like the post, follow @navitasorganics and @altereco_foods (the company providing the giveaway goods), and tag at least one friend in the comments. This giveaway taps into #WorldChocolateDay for more exposure, and the prize is perfect for the occasion: a bundle of delicious chocolate fair-trade goodies from @altereco_foods. 
Baskets Galore: Comment & Engage for a Chance to Win
Screenshot via Instagram by @basketsgalore
Baskets Galore has another unique approach in this Instagram giveaway. Instead of the usual like and comment to enter, they encourage ongoing engagement by choosing one of its "daily dispatch dates" at random and entering everyone who interacted on those daily dispatch posts – across any of their social media profiles – in a drawing to win a luxury gift basket. This Instagram giveaway is a great example of an innovative way to get around those once-and-done giveaway entries in which a participant does what's required to enter but later unfollows your accounts or never engages with your brand again.
Hydro Flask: Follow & Tag Two Friends Giveaway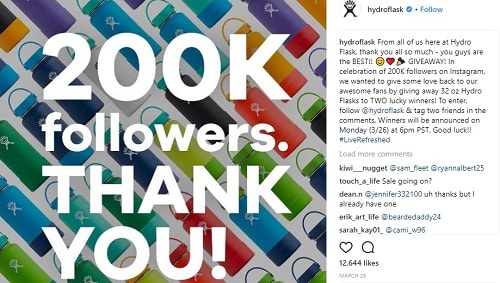 Screenshot via Instagram by Hydro Flask
In this giveaway, Hydro Flask celebrates the milestone of reaching the 200k followers by running a contest to earn a few more. They asked fans to follow @hydroflask and tag two friends in the post comments to enter to win a 32-oz. Hydro Flask. The post has more than 12,500 likes – engagement anyone? And the best part? Two winners = better odds of winning!
Kopari Beauty: Comment Your Favorite Kopari Product & Tag a Friend Giveaway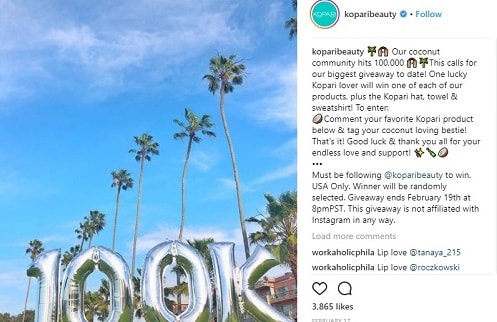 Screenshot via Instagram by Kopari
Similarly, Kopari Beauty celebrated its milestone of garnering 100k followers with an amazing giveaway. While there's only one winner, the lucky winning fan scored one of every Kopari product AND a Kopari beach towel, hat, and sweatshirt. To enter, followers must comment on the post with their favorite Kopari product and tag a friend.
Simon and Schuster: Tell Us How You Make Trouble Giveaway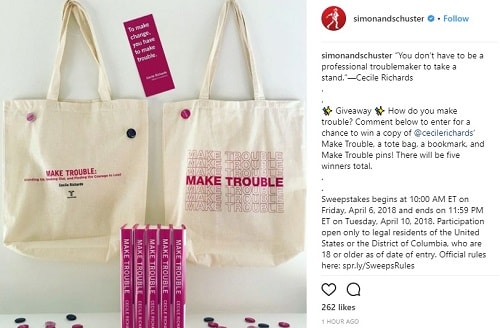 Screenshot via Instagram by Simon & Schuster
This Instagram contest has a trouble-making theme that sets it apart. Five winners score a copy of Cecile Richards' book, Make Trouble, plus a tote bag, bookmark, and Make Trouble pins. The contest post highlights one of Richards' most-repeated quotes: "You don't have to be a professional troublemaker to take a stand." Simon & Schuster wants to know: "How do you make trouble?" As the perfect tie-in, fans are asked to leave a comment sharing their trouble-making antics to enter to win. (Tip: You can get more Instagram followers by using quotes. Also, people love to talk about themselves, so ask for stories!)
Fabletics & Bliss: Like, Follow, and Tag Giveaway (with Bonus Entry!)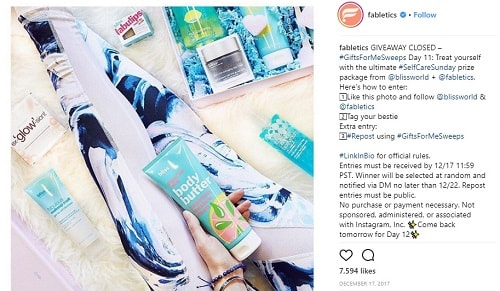 Screenshot via Instagram by Fabletics
This giveaway from Fabletics, part of a 12-day promotion with new contests and winners each day, is a little more complex than most, but there are a few perks to this setup: First, it's a joint promotion between @fabletics and @blissworld, so both brands benefit.  To enter to win the ultimate #SelfCareSunday package, fans had to follow both brands' accounts, like the contest photo, and tag their bestie in the comments. To score an extra entry, fans had the option of sharing the contest post with #GiftsForMeSweeps. (Double the engagement = double the chances to win.)
Diaper-eez: Follow & Share Your Success Story Giveaway
Screenshot via Instagram by Diaper-eez
Diaper-eez knows how to package an Instagram giveaway for maximum benefit. The giveaway prize is a Colibri Double Duty Wet Bag plus a hanging diaper pail. To enter, fans have to follow @diapereez, like the giveaway post and comment on their cloth diaper success story in the comments. Followers can post multiple stories and tag a friend for extra entries, giving the brand tons of engagement plus a built-in way to gather user-generated content. This is smart marketing at its finest.
TheBeautySpy: Follow & Tag Friends Giveaway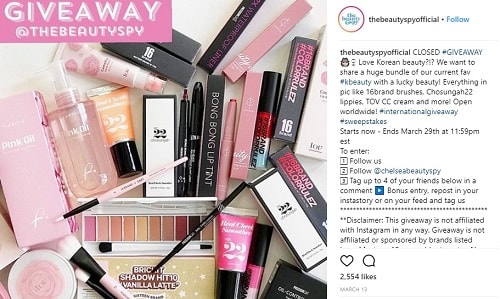 Screenshot via Instagram by TheBeautySpy
One lucky winner scored a slew of beauty swag in this giveaway. To enter, fans had to follow @thebeautyspyofficial and @chelseabeautyspy and tag up to four friends in the comments. They could also score a bonus entry by reposting the contest post in their Instastory or on their Instagram feed and tagging both accounts. This is a smart strategy for boosting follower numbers and brand awareness for related brand identities.
Forever 21: Follow, Tag Two Friends and Tell Us Your Favorite Old-School Movie Giveaway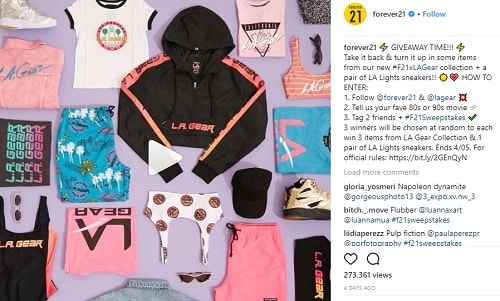 Screenshot via Instagram by Forever 21
Forever 21 gets nostalgic with this Instagram giveaway, giving three lucky winners three items each from the LA Gear Collection, plus a pair of LA Lights sneakers. Almost everyone older than 10 in the 80s remembers (fondly or not) the LA Gear brand, Forever 21 ties in the old-school theme by asking fans to comment with their favorite movie from the 80s or 90s, follow both @forever21 and @lagear, and tag two friends for a chance to score some LA Gear swag.
Domino's: Prove You're a Superfan with a Photo Contest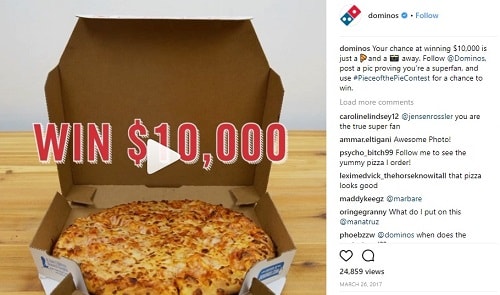 Screenshot via Instagram by Domino's Pizza
Last (but certainly not least), how about a chance to win $10,000? While a $10k prize may be out of reach for smaller brands, you can take a cue from Domino's and run a giveaway with a worthwhile reward that motivates your audience to engage with your brand. But are you a fan, or are you a superfan? For a chance to toss their name in the ring for an amazing $10k prize, Domino's asked fans to share a photo that proves their superfan-dom using #PieceOfThePieContest, and it didn't even require a selfie (although we're sure pics of enthusiastic pizza-stuffed faces didn't hurt anyone's chances of winning).
From the simple to the elaborate, there are various ways to set up an Instagram giveaway. And because they're easy to manage, you can experiment with a few different types of contests with smaller prizes to figure out what your audience responds to. When you find the winning formula, kick it up a notch with more valuable prizes and mix and match the requirements to maximize engagement.
Want An Effortless Way to Get More Instagram Followers?
Running a giveaway on Instagram is a great strategy for getting more engagement. You can get even more engagement from Instagrammers by installing our Instagram follow button. Beautiful, quick to install, and easy to configure — our Instagram follow button is designed to help you instantly grow your audience on Instagram.  Take 5 minutes now to install it, then sit back, and watch your Instagram follower number grow!
Need more followers on other social media platforms?